R&B, drill, grime – three genres that might come to mind when you think of black music.
For musician Hak Baker, it's a limiting belief.
He's been releasing songs since 2017, but has only just felt he can put music out about things like Windrush.
It's 75 years since the ship HMT Empire Windrush and its 492 passengers arrived in the UK, carrying passengers from the Caribbean.
They moved to help with job shortages after World War Two and it was the start of a wider mass-migration movement between 1948 and 1971.
It's also the reason Hak was born and bred in the UK – the singer grew up in the east London, but his dad was born in Grenada and his mum is Jamaican.
His track Windrush Baby explores the integration of Caribbean communities in the UK, but also has a positive message that children and grandchildren of that generation can achieve anything they want.
"I had to get the right audience," he tells BBC Newsbeat.
"Because of the hardships and the tribulations that our grandparents went through, we're in a place of advantage where we can mould our own futures and we can become beacons of attainment in whatever way we wish."
Hard to put into just one category, Hak's music is a mix of ska, reggae and punk – some genres he says aren't always seen as black music.
"My songs have origins of blues and rock, which originally were black music," he says.
"But in today's day and age it's not seen as that, instead it's seen as alternative."
It's an issue Hak says is unique to black music and something he would like to see change.
If you're black he argues, you're limited to drill, hip hop and reggae – all genres he loves but he says there needs to be space for alternative artists.
"It's one of those moments where we're categorised and put into a box," he says.
"Record companies know they can make a lot of money from drill artists, so they keep signing them.
"But that creates a vacuum of what other kids can do, because they keep making what they're seeing."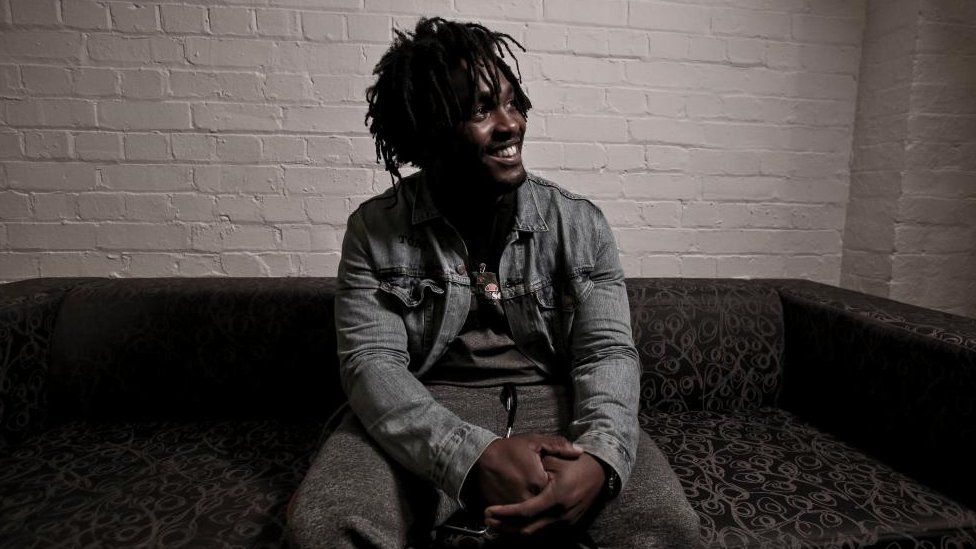 Over the course of his career, it's Hak's lyrics which he believes have got a black audience through the door to his gigs.
"When I first started making music, if it wasn't for my close friends it was a white crowd that came to my shows and listened to my music.
"As time progressed and people really started listening to my stories and what I was talking about, people of my race registered that I was talking about their stories, just in a different way."
And Hak says it's this that allowed him to release a song on Windrush.
As part of the Windrush anniversary there are events happening across the world of sport and music.
Hak himself performed at the official Royal Albert Hall concert, although he says marking the day leaves him conflicted.
"I wish that it wasn't spoken about in the way it is, because it reminds me of being downtrodden.
"Our differences should be celebrated every single day, like it should be our curriculum, not just about tragedy and slavery because hearing that creates an idea of who we are."
Instead, he would like to see school lessons reflect the rich history of the Caribbean and Africa.
"Yes, I am a child from a migration called Windrush, but I'm also an offspring of great, great amazing history."
Source : BBC