People in the path of Hurricane Idalia have been warned to evacuate without delay, as the storm hurtles towards the US state of Florida.
It is forecast to hit the Gulf Coast as a major Category 4 hurricane with winds up to 125mph (201km/h) on Wednesday morning.
The National Hurricane Center (NHC) warned Idalia would bring "life-threatening" weather to the state.
Coastal areas could be deluged by a storm surge of up to 10-15ft (3-5m).
"Very few people can survive being in the path of a major storm surge, and this storm will be deadly if we don't get out of harm's way and take it seriously," said Federal Emergency Management Agency chief Deanne Criswell.
The storm was upgraded to a Category 3 hurricane early on Wednesday morning, with maximum sustained winds of 100mph.
Idalia is projected to strike the vulnerable coastal area of Big Bend, which has not seen such a major hurricane since the 1800s, Florida Governor Ron DeSantis said.
Big Bend sits roughly where north-south portion of the state's peninsula bends toward the east-west portion of the Panhandle, curving along the Apalachee Bay.
According to the NHC, no major hurricane has tracked into Apalachee Bay in north-western Florida since 1851.
"For some communities this is probably going to be worse than they're envisioning, because so few people understand the power of a major hurricane," Jamie Rhome, deputy director of the National Hurricane Centre, told the BBC.
Idalia's outer bands have already brought tornado warnings in several Southwest Florida communities, including Golden Gate, Naples, and Marco Island.
Twenty-eight of Florida's 67 counties were under some form of evacuation order as of Tuesday evening, including 14 mandatory orders in counties clustered along the state's upper Gulf Coast.
Urging people in evacuation areas to move to safety, Mr DeSantis said residents that do not leave immediately will not be able to do so until the storm passes.
"You don't need to run hundreds of miles, just get to higher ground, get to a safe structure," Mr DeSantis said.
Much of Florida, including the densely populated Tampa area, is braced for severe weather. Tampa International Airport closed on Tuesday, and is expected to remain shut until Thursday morning.
Chanel Jay, who is facing her second hurricane in a year since moving to Florida from Pennsylvania, told the BBC she wasn't taking any chances.
She was hunkering down in an East Tampa shelter set up at a school about a 10-minute drive away from her home."Florida weather has a mind of its own," she said.
Mary Wolcott Martino, 79, a travel writer in St Petersburg, a city in the Tampa Bay area, told Reuters news agency she was packing up as fast as she could on Tuesday afternoon.
She grabbed items that could not be replaced, including hard drives with family photos.
"We're leaving in five minutes, headed out the door now," she said. She and her husband are not bothering to board up their home, like they have in the past, telling Reuters they are more concerned about storm surges than winds.
"We're on the canal and just nine feet above sea level," she said.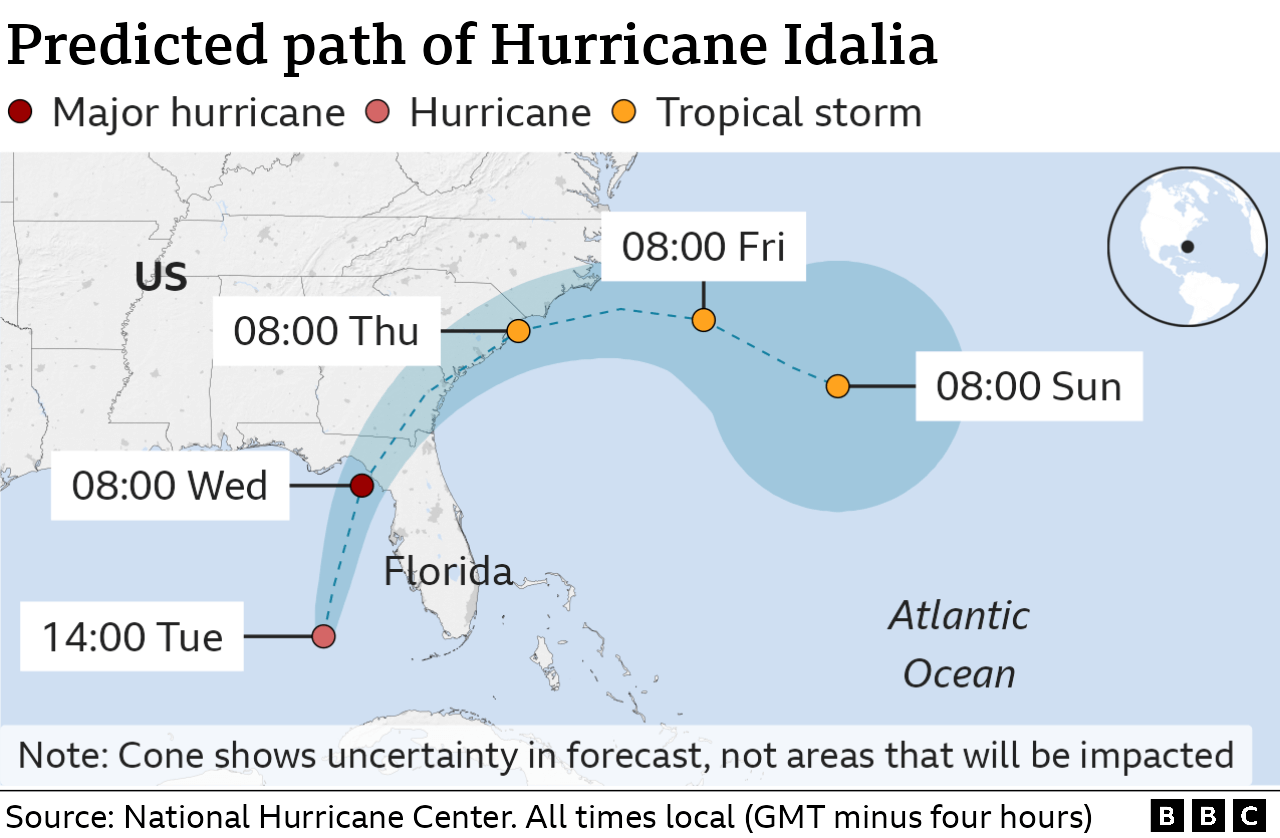 Up to 12in (30cm) of rain is forecast in northern Florida, where Idalia is expected to make landfall.
At 17:00 local time on Tuesday (21:00 GMT), Idalia was 195 miles (310 km) south-west of Tampa, Florida, according to the NHC's most recent update.
More than a dozen emergency shelters have been opened by the state, with seven in the Tampa Bay area alone – just south of where Idalia is expected to make landfall.
Along evacuation routes, tolls were being waived and some 420,000 gallons of fuel was ready to be deployed at petrol stations, Mr DeSantis said.
Florida has mobilised more than 5,500 National Guardsmen to assist with the state's emergency response, and up to 40,000 utility workers are on standby to tackle power cuts.
Residents in the path of the storm should expect outages, Mr DeSantis said.
"There's going to be destruction of houses and homes and structures," warned David DeCarlo, director of Hernando County Emergency Management.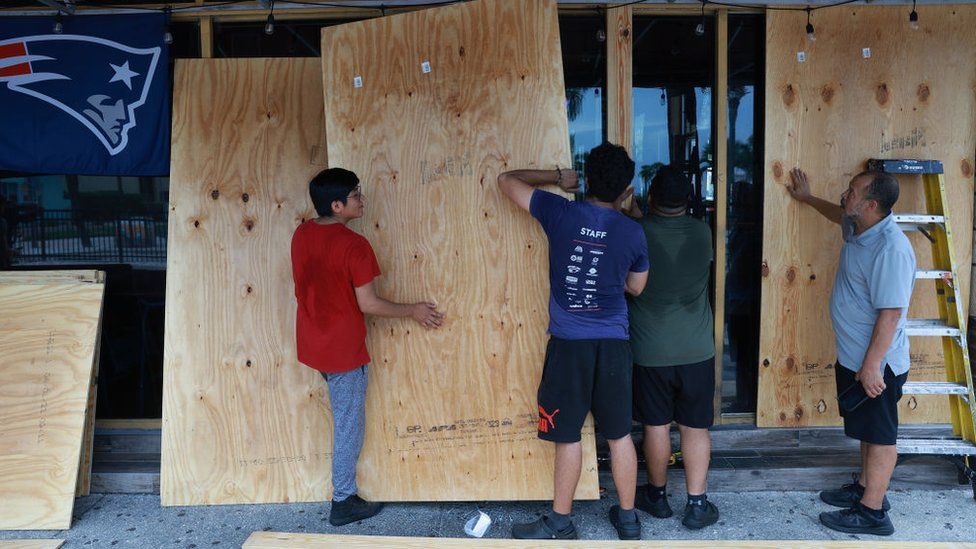 Last year, Hurricane Ian made landfall in south-western Florida, wreaking more than $100bn (£79bn) in damage and killing over 100 people.
On Monday Idalia swiped the western shore of Cuba, where tens of thousands evacuated ahead of flooding and high winds.
Residents battened down homes and secured fishing boats. Brown floodwaters had swamped the small fishing village of Guanimar, south of Havana, by mid-afternoon.
"We've had two days of rain already," Yadira Alvarez, 34, told Reuters on Monday. She said storm water had already swelled to knee-height inside her home.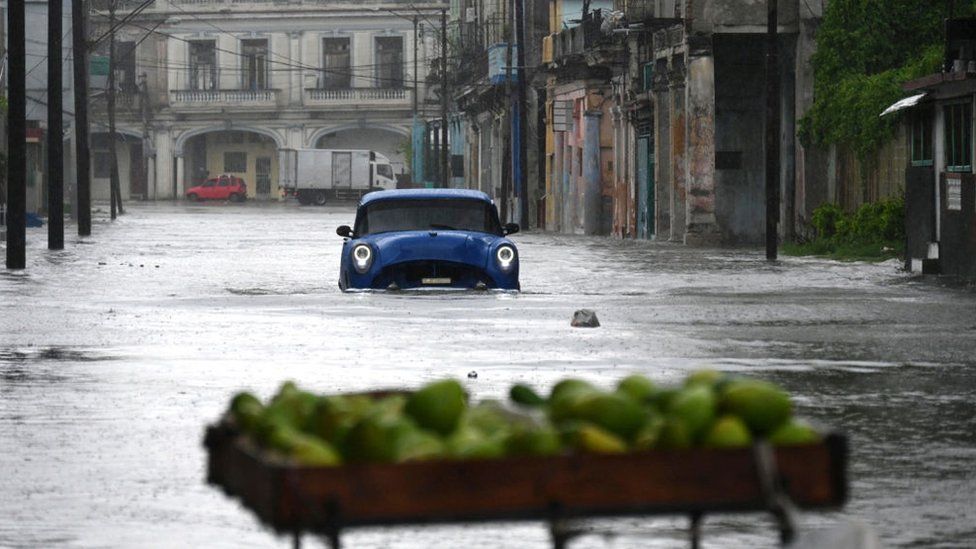 The US states of Georgia, North Carolina and South Carolina could see heavy rainfall as well, forecasters said.
On Tuesday, South Carolina declared a state of emergency in anticipation of Idalia.
Far to the east of Idalia, Hurricane Franklin, the first major hurricane of the season, has brought life-threatening rip currents to the Bermuda and the US East Coast. These conditions are expected to continue in the coming days, according to the NHC.
As of Tuesday afternoon local time, the eye of Franklin was just west of Bermuda, moving north-east with maximum sustained winds of 125mph (201 km/h). Its current path avoids any major land mass, with the storm moving to the east of North America.
The impact of climate change on the frequency of tropical storms is still unclear, but increased sea surface temperatures warm the air above and make more energy available to drive hurricanes.
As a result, they are likely to be more intense with more extreme rainfall.
Source : bbc