Argentines have been choosing a new president in an election rocked by the emergence as front-runner of anti-establishment populist and self-styled "libertarian" Javier Milei.
Mr Milei is an outspoken right-wing economist whose "shock-jock" style and aggressive social media campaigning have appealed to younger voters.
His victory in the primary has put his two main rivals on the defensive.
Sunday's election comes amid a severe economic crisis.
Polls closed at 18:00 local time (21:00 GMT) and results are not expected before 22:00 in Buenos Aires.
Latin America's third-largest economy is suffering from triple-digit inflation and a devalued currency that has left 40% living below the poverty line.
Argentina remains the world's single biggest debtor to the International Monetary Fund (IMF), owing $46bn (£38bn).
Traditionally, elections here have been dominated by the left-wing Peronist movement – whose candidate is the current economy minister Sergio Massa – and its centre-right opposition, which has chosen former security minister, Patricia Bullrich.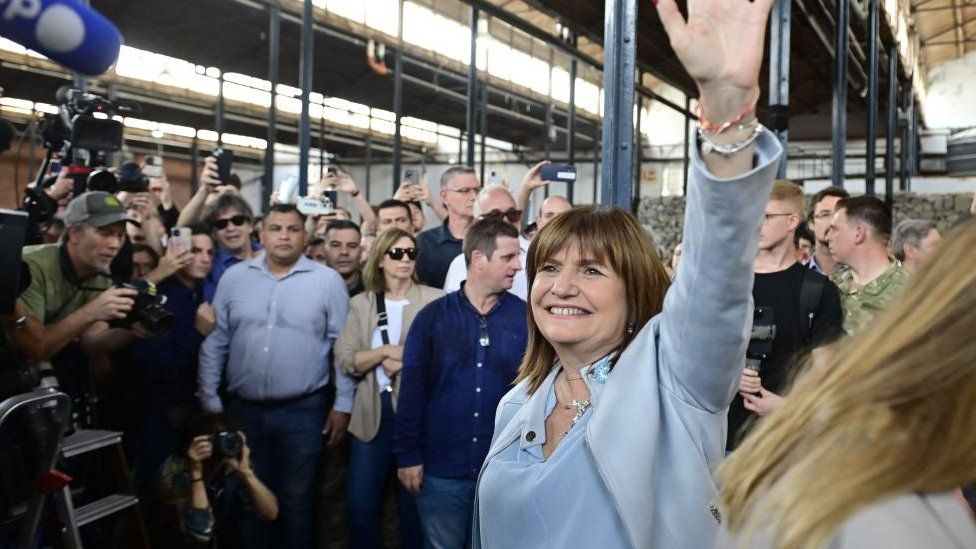 However, the campaign has been turned on its head by the success of Javier Milei in the primaries in August.
Mr Milei beat Ms Bullrich and Mr Massa into second and third place and remained ahead in polls ahead of Sunday's election.
Two other candidates, Myriam Bregman and Juan Schiaretti, lag behind the top three.
Mr Milei has drawn fire from Mr Massa and Ms Bullrich with his statements declaring deep aversion to "communists", and even to Pope Francis.
He proposes to reduce inflation by eliminating Argentina's central bank, ditching the Argentine peso, which he calls "excrement", and using the US dollar instead.
At campaign rallies, the 52-year-old has waved giant replica dollar bills to promote his plan, and also brandished a chainsaw, symbolising his intentions to slash what he says is a bloated government bureaucracy serving a "parasitic political caste".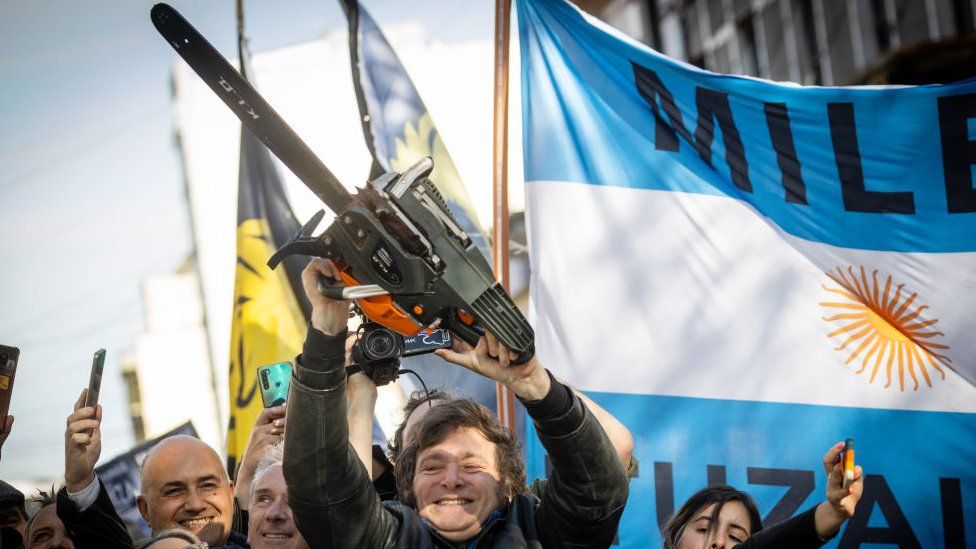 With yells of "Viva La Libertad, carajo!" (Long Live Freedom, damn it!) he has vowed to cut back the size of government by closing the ministries of sport, culture and women. He would also merge the health and education portfolios.
Meanwhile, 51-year-old Mr Massa has sought to defend the Peronist movement's social and labour credentials.
He says austerity measures passed by his government are the result of the IMF debt run up by the previous centre-right administration.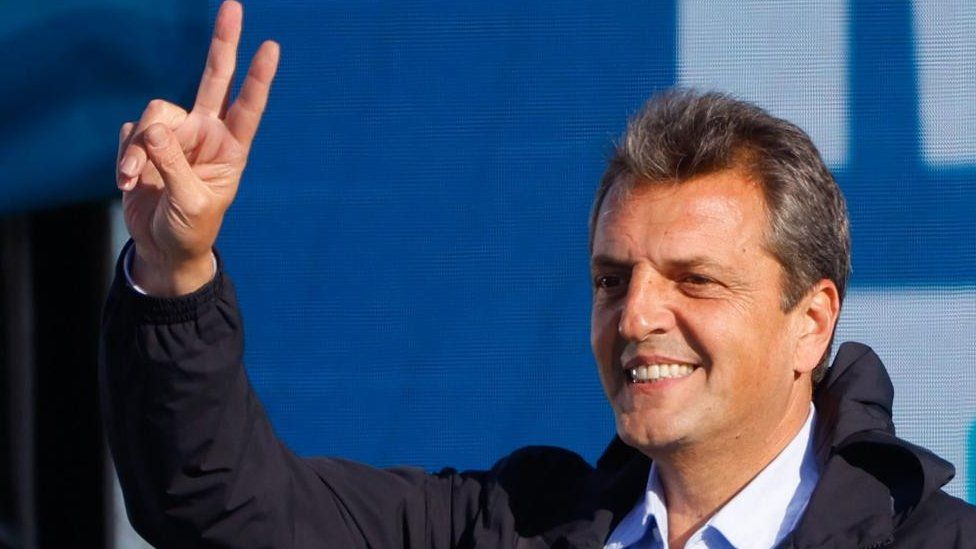 Ms Bullrich, 67, has proposed a dual currency system that would combine both the peso and dollar in the economy, unifying the exchange rate and relaxing restrictions on the dollar.
Presenting herself as tough on crime, the former security minister dubbed by some as Argentina's "Iron Lady", has promised to restore "order" to the country, which in August experienced a wave of mass lootings of shops and has also seen an increase in drug-trafficking violence in some cities.
She has accused Mr Milei of "emotional instability" and told Mr Massa to "explain to Argentines how, being the worst minister of the economy, you can be the best president".
Polls before Sunday's vote suggested the presidential race was likely to go to a run-off on 19 November.
In order to win outright in the first round, a candidate would have to secure more than 45% of votes, or 40% plus a margin of 10 percentage points over the closest rival.
That is unlikely, although not impossible, with five candidates in the running.
Besides choosing a new president and vice-president for a four-year term, Argentine voters have also been electing 130 new representatives for the lower house of Congress, which has 257 members, and 24 new senators for the 72-member upper house.
Source : BBC