Archaeologists have revealed a model showing what Peru's most famous mummy would have looked like.
The mummy, known as "Juanita" or the "Inca Ice Maiden", was an Inca girl who is thought to have been sacrificed in a ritual more than 500 years ago.
Scientists worked with a specialist in facial reconstruction to build a silicon bust of the mummy.
Johan Reinhard, the US archaeologist who first found the mummy in 1995, said the bust "makes her even more alive".
A team of Peruvian and Polish scientists worked with Oscar Nilsson, a specialist in facial reconstruction from Sweden, to build the silicon bust of the teenage girl.
The scientists said body scans, skull measurements, DNA studies and ethnological characteristics guided their reconstruction.
Mr Nilsson told the Associated Press that it took "about 400 hours of work" to model the face, which has pronounced cheekbones, dark eyes and brown skin.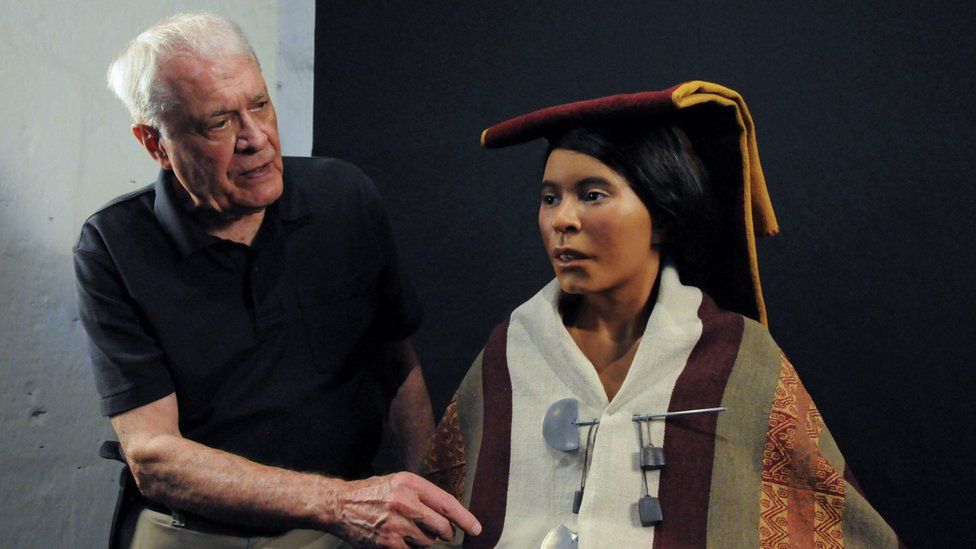 Dr Reinhard said: "I thought I'd never know what her face looked like when she was alive. Now 28 years later, this has become a reality thanks to Oscar Nilsson's reconstruction."
Dr Reinhard and Peruvian mountaineer Miguel Zárate found Juanita's frozen body at an altitude of 6,400m (21,000ft) during an expedition to the Ampato volcano.
She was wearing a ceremonial tunic and a headpiece and was surrounded by ceramic objects including bowls and figurines.
Studies carried out on the body suggest Juanita was between 14 and 15 years old when she was sacrificed.
A CT scan by researchers at Johns Hopkins University found that the probable cause of death was a severe blow to the back of her head.
Experts think that she may have been drugged and made to kneel before she was hit over the head with something which may have resembled a truncheon in a human sacrifice to the gods
In an article in Penn Museum's Expedition Magazine, Dr Reinhard explained that according to the Inca belief system "such a sacrifice brought honour on the parents and an afterlife of bliss for the victims".
"The child would become deified and worshipped for generations as the villagers' intermediary with the gods."
Source : BBC