In some remote, mostly Indigenous communities across Bolivia, the COVID-19 vaccine was met with a mixture of rumour and distrust.
To turn the tide on vaccine hesitancy and increase acceptance, the Pan American Health Organization (PAHO), in collaboration with the Bolivian Ministry of Health and Sports, via the National Expanded Program on Immunization and the Departmental Health Service of La Paz, began work in Achacachi and Caranavi, two communities with low COVID-19 vaccination rates.
Large scale collaboration was needed, including tapping into the vast network of local health centers, mayors, community leaders as well as local police and army regiments. With the support of PAHO, these groups developed a strategy based on community dialogue, inclusion, music and theatre, called "Vaccine Action".
The "Vaccine Action" campaign, implemented with funding from the Government of Canada, focused on several activities to raise awareness of vaccine safety and to answer any questions from the local community. The activities included workshops, town hall meetings, radio announcements, folk songs and street theatre.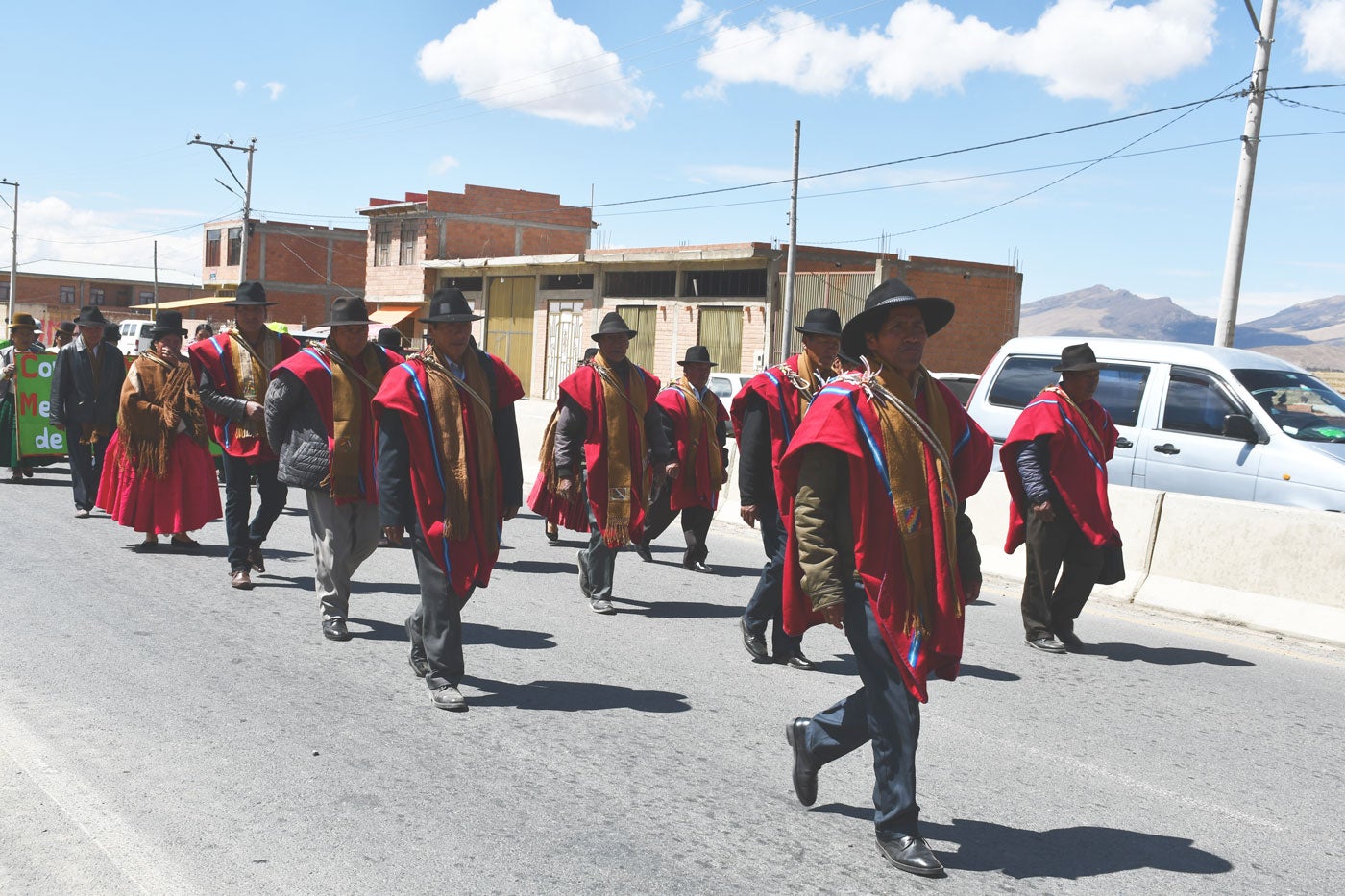 Reaching at-Risk Communities
In Achacachi, on the eastern shore of Lake Titicaca, the Aymara Indigenous group, numbering some 14,700 inhabitants, interpreted the arrival of COVID-19 as "something strange, unknown, and a risk for our people," according to a local man.
The Aymara, who have a strong connection to nature and rely on herbal and spiritual remedies, also saw COVID-19 as the spirit of Kari Kari, who they believe targets victims and generates illness.
In Caranavi, 240 kms from the capital, barriers to vaccination include difficult road access and frequent electricity cuts. Around 3,500 Indigenous Moseten people live in this area, in the heart of the Amazon, in communities dispersed between rivers and mountains. To reach them, it is not unusual to travel by land for 6 hours and a further 6 hours by boat.
"In my more than 25 years as a public health worker, I have never come across so many obstacles to get people vaccinated," said Dr. Ramiro Llanque, Executive Director at Andean Rural Health Care, PAHO's local partner during the four-month vaccination effort, which started in August 2022.
Unsubstantiated rumors and lack of credible information on the COVID-19 vaccine were also threatening to undo years of progress in local public health.
"I used to take my two-year-old daughter for her routine vaccinations, until COVID arrived," said Nelly Ramirez, (not her real name) a 26-year-old single mother in Achacachi. As spread, parents like her started to worry about taking their children to get any shots.
"Parents thought all shots were against COVID, and not against measles, polio and basic immunizations", Llanque said. To add to the complexity, even some school teachers were advising parents not to get their children vaccinated.
Large-Scale Collaboration Yields Results
Understanding all the factors contributing to vaccine hesitancy was key to increasing the vaccination rate. The campaign effort included mapping a list of essential allies to help coordinate campaigns on a local level, reaching out to parents, schools, traditional healers, community leaders, and municipal authorities, among others.
In Achacachi, social mobilization included "marches for vaccines" attended by hundreds and held with the participation of influential community leaders known as "Ponchos Rojos" or red ponchos, who were crucial in communicating the effectiveness of the COVID-19 vaccines.
On the other side of the country, among the Moseten communities, local leaders known as caciques also led pro-vaccine mobilization.
The outreach included performances with creative props such as walking syringes, performed to much laughter. The plays were held in Aymara, the local Indigenous language, as well as Spanish. Typical songs of the Andean region known as "tarqueadas" played with a wooden flute, called for men and women to get the vaccine, repeating their safety and life-saving quality with every drumbeat.
"These types of activities opened the way for health professionals to get the community to accept vaccinations as something positive. We were then able to go to people's homes, vaccinating house by house," said Dr. Limbert Mamani, the Director at the Achacachi Hospital.
Doctor Gabriela Chispana, who is responsible for the Achacachi Health Center, agreed: "A few months ago, community authorities were the ones who mainly distrusted vaccines and asked families not to get vaccinated. This massive participation reflects the authorities' acceptance of the vaccines, and the efforts made to demystify them and respond to the population's doubts and fears."
According to local health authorities, childhood vaccine acceptance rates increased from 66 % to 92 % in Achacachi and from 75 % to 83% in Caranavi during the August – November 2022 period.
Intercultural communication
Using PAHO methodologies, intercultural meetings known as "knowledge dialogues" between health staff, community leaders, teachers, traditional doctors and local families were vital in establishing trust and discussing fears openly, while still highlighting the importance of traditional doctors and the benefits of local remedies.
Liaising with the local media, including 10 community radio stations and sharing PAHO training guides on "how to report on COVID-19" was also key in debunking conspiracy theories and unfounded concerns.
Eliana Irusta, a media consultant at Andean Rural Health Care, understood the magnitude of the challenge when she visited remote communities in the region of the Moseten people: "due to the lack of electricity in the area, few homes have TV or internet, so information travels from person-to-person."
The production of several radio "micro-programs" was especially important in relaying information to homes with battery-powered radios.
As a result of these efforts, the campaign reached around 200,000 people. The campaign also resulted in a collective commitment from local authorities to stamp out disinformation regarding COVID-19 vaccines. And in the hardest-to-reach areas of Caranavi, the initiative had another positive effect: vaccinating around 200 people against diphtheria, yellow fever, tetanus and whooping cough.
"It is good that PAHO travelled across rivers and ravines to find out more about the needs of our community," said Veronica Roca, an Indigenous Moseten leader in Caranavi.
In Bolivia, since COVID-19 vaccines became available in January 2021, the government reports 53.1% of the population received the full vaccination series, with a total of 15,891,936 vaccines administered among its population of 12 million people (including first, second, third and fourth doses).
Vaccination rates in the country have yet to reach the target set by the World Health Organization of providing at least two doses to 70% of the population.
"What we achieved through communication and inclusion was unique – the acceptance of the COVID-19 vaccine, and re-acceptance of regular vaccines," concluded Llanque, PAHO's partner on the ground. "Health workers also strengthened ties with the Aymara and Moseten Indigenous communities, a partnership that is fundamental and will have long lasting positive effects when facing future public health challenges."
Source : PAHO